The NordMedia23 Doctoral Pre-Conference in mid-August marked the end of my summer vacation. Admittedly, I had nothing against continuing my holidays, but I must say that the day we spent together with the Nordic junior scholars in the pretty city of Bergen on the western coast of Norway was the best possible way to start a new academic term!
After some initial challenges ranging from train cancellations to a positive COVID-19 test, 22 PhD students from Denmark, Finland, Norway and Sweden gathered in Bergen on 15 August to discuss their ongoing research projects.
We are waiting for #PhD students to arrive at @MediaCityBergen to launch the #NordMedia23 Conference program! No post-storm train cancellations, positive Covid tests or last-minute hiccups stop us, we can always turn some parts into hybrid encounters! #mediastudies #PhDlife pic.twitter.com/d3uc0E2rhk

— Dr. Maarit Jaakkola (@maaritjii) August 14, 2023
This was the fourth time such a Nordic one-day doctoral seminar was arranged, and the second time I was organizing it on behalf of Nordicom. Nordicom is the strategic partner of the biennial NordMedia Conference, organized since the 1970s, and as a member of the organizing committee, I have been involved in the arrangements of the conferences in Reykjavik (2021) and Malmö (2019).
As the last time the pre-conference was virtual, attached to an online conference led from Reykjavik, this was basically the first onsite event with Nordic doctoral students for me. The conference venue was located in Media City Bergen, which is a media and technology innovation hub in the city centre.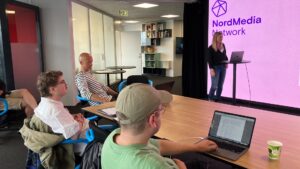 The first half of the day was dedicated to discussing the PhD projects and identities of a doctoral researcher. The invited guests presented their PhD journey and provided the participants with advice. My own advice was related to my dissertation, which is an illustrating case of how anything can happen – as known, I was hospitalized one day before my defense and conducted my part online, with the help of a virtual conferencing software, years before the pandemic made Zoom and Teams known for everyone.
The second half of the day was a regular paper session with presentations and discussions, divided into three parallel sessions. I had invited 12 senior scholars to act as discussants to the papers. Complemented with peer feedback and general discussions, the objective of the sessions was to provide the junior scholars with as much constructive feedback as possible.
For many of the doctoral students, this was their first academic international event. I'm so proud of all 22 participants – everyone made a good impression and were astoundingly confident in their role even if some of the participants were only first-year students and had not had much time to delve into their research topic. Many of them had conducted a literature review and were exploring ways to work on the empirical part of their study – most of them will be article-based projects, but monographs are not obsolete yet, as you can see among the submissions.
The feedback that we got was extremely positive, indicating that participants were pleased with the arrangements and the amount of input they received during the day. "The pre-conference met our expectations perfectly: the agenda, the content, the people", some of the students wrote (they were asked to fill in the feedback form in pairs, after a mutual reflection). Many participants appreciated the lively exchange of experiences and told that it was an important thing to learn how every PhD journey is different and one should avoid comparisons. "Everything will be alright and we don't need to take ourselves too seriously!", one participant summarized.
Discussions continued in a local pub and at the main conference, which took place on 16–18 August.
I have several ideas regarding how to develop the pre-conference, which is now on its way to becoming an established tradition. First of all, I would like to create a doctoral workbook to be used systematically at these occasions, based on a model that I have developed about the key ingredients of learning within a PhD project. Second, I would like to collect all past participants into some kind of an alumni network that could be the start of the Nordic doctoral student network as part of NordMedia Network. In the meanwhile, we at NordMedia Network will continue to support the Nordic PhD students by organizing webinars and other online events, as well as publishing online resources.
Thank you for everyone who assisted me in putting together this unique workshop: Anna, Irmelin, Johannes, Knut, Kristin, Magnus, Mathias, Meri-Maaria, Margareta, and all the senior discussants!